The driver of a commercial truck traveling through Moorpark was pulled over for suspicion of having manufactured license plates leading to his arrest for several infractions.
On May 28, a motorcycle officer reportedly saw a semi-truck displaying a license plate that appeared to be bogus.
The officer conducted a traffic stop on the vehicle and spoke with the driver about the plate with the counterfeit characteristics, which had the word "Califas" in the spot designated for the state name. The photo provided by the Sheriff's Office shows an unevenly shaped black rectangle with raised yellow lettering that was lined up in an irregular fashion.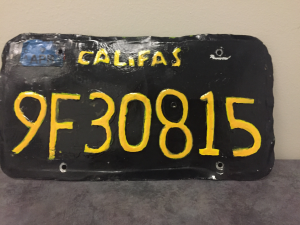 (Photo credit: Ventura County Sheriff's Office)
It was assumed by the authorities that the driver had been the person responsible for affixing the rather rudimentary appearing imitation plate on the truck.
While interacting with the vehicle operator, identified as 41-year-old Jorge Salazar, the officer found that the man was allegedly not licensed to drive, and had a current active warrant out for his arrest. The officer also became suspicious that Salazar may have been under the influence of an illegal and altering substance.
In the midst of apprehending Salazar, the officer alleged that a substance believed to be methamphetamine was discovered on the suspect.
Due to the assumed inability for Salazar to move the truck to another location, a tow was arranged so that it could be safely removed from the scene.
Salazar was taken into custody, and he is facing a host of charges including driving under the influence, possession of methamphetamine, driving without a license, and having an active warrant for his arrest. It was reported that he was released on bond.
If you or someone you love is suspected of a crime, contact Orange County criminal defense lawyer Staycie R. Sena at (949) 477-8088 for a consultation now.