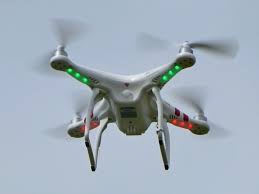 Drones are often thought of as airplane-sized, unmanned aircraft intended to get surveillance video of remote areas or bomb distant targets. But they do exist on a much smaller scale, within the purchasing power of the average American hobbyist, one of whom learned last week that doing so can land him in a New York court with felony charges.
The man was flying a model drone, a DJI Phantom 2, with a remote control. According to the police report, a video camera was attached to the craft and he allegedly flew the drone within 15 feet of a hospital window, where patients were undergoing medical examinations. Patients and staff had reported seeing the drone, but the man says the tinted hospital windows prevented the video footage from showing anybody inside.
After posting video of the outside of the hospital to his Facebook page, the man was arrested and charged with Unlawful Surveillance in the Second Degree, a felony. The man later apologized for the video footage, saying "I truly realize that I should have asked first but did not think it would be an issue….only to discover that it sure is…"
As the price of model drones and video recording devices continues to fall, the number of cases of unlawful surveillance is expected to rise. If you fly drones, be mindful of what you film and where you post it.
If you or a loved one is charged with a crime, call Orange County criminal lawyer Staycie R. Sena for a free consultation at (949) 477-8088.