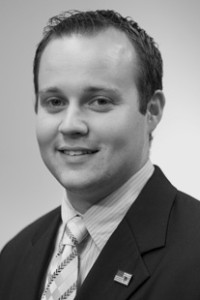 Josh Duggar, originally from the reality TV show "19 Kids and Counting" yesterday reportedly confessed to molesting five underage girls, including some of his own sisters in a widely-publicized confession. The incidents are said to have taken place in 2002 when he was 14 years old. The police report detailing these incidents has been made public. Discretion is advised, as some of the descriptions are graphic. He has since resigned his position at the Family Research Council, an organization devoted to "protecting children and families."
Jim Bob, Josh's father, allegedly knew about the incidents but waited over a year to report the incident to an Arkansas State Trooper, who was a family friend. The trooper is said to have given Josh a stern reprimand, but no criminal action was taken at that time. The trooper would later be convicted of child pornography charges and is currently serving a 56-year term in prison.
Police reports show that several family members were interviewed in 2006 after a family friend contacted the Child Abuse Hotline. The friend had found a letter written about the incidents in a book borrowed from the Duggar family. According to the police report interviews the alleged victims were touched, mostly while sleeping, on their breasts and genitals. Four of the girls were Josh Duggar's sisters.
In the 2006 police report, Jim Bob states that at the advice of Church elders, he and wife Michelle sent Josh away to a "Christian program" after learning of the incidents. Later in the report Michelle Duggar states their son was not actually sent to "a training center" and did not receive any counseling or therapy. Instead he was reportedly staying with a family friend in the home remodeling industry.
"I would do anything to go back to those teen years and take different actions," Josh said in a separate statement. "I sought forgiveness from those I had wronged and asked Christ to forgive me and come into my life. In my life today, I am so very thankful for God's grace, mercy and redemption."
No charges were filed at the time of the incidents. Because of the statute of limitations for such crimes has expired, no criminal charges are currently pending.
If you or a loved one is charged with child molestation or sexual abuse, call Orange County criminal  lawyer Staycie R. Sena immediately for a free consultation at (949) 477-8088.