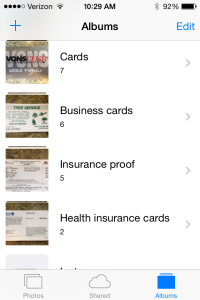 Under California Vehicle Code §12500, driving without a valid license can result in a citation. Lacking evidence of liability insurance is a violation of Vehicle Code §16028 and a first-time offense can result in a fine of between $100 and $200, plus penalty assessments.
With all of the cards we're required to keep track of, sometimes we misplace our driver's license. If your glove compartment is anything like mine, finding a credit card-sized evidence of liability insurance amid a disorganized mess of papers, manuals, sunglasses and loose change is going to be difficult. Add an impatient police officer standing next to your car, and you're going to get nervous. This nervousness can be misconstrued by the police officer as you being under the influence of a drug and may result in a breath and/or blood test. Even if you are not under the influence, an arrest can often jeopardize your employment and any professional licenses you may hold.
There is a simple fix to this problem: take a picture of your driver's license, vehicle registration, and evidence of financial responsibility using your smartphone. Because our phones can often have hundreds of photos saved, create a separate album in your smartphone, and move the three photos to this location. Your driver's license, registration, and evidence of liability insurance will always be within reach and easy to find.
You can also use this same strategy for rewards or membership cards from grocery stores. In many cases, they will be able to scan the barcode directly from your smartphone. Create a separate album for business cards, roadside assistance cards, and health insurance cards.
For security's sake, we highly recommend that you password-protect your smartphone to protect this sensitive information. We also do not recommend taking photos of your credit cards due to the possibility of fraud, should your photos be compromised.
If you or a loved one is charged with a crime, call Orange County criminal lawyer Staycie R. Sena immediately for a free consultation at (949) 477-8088.