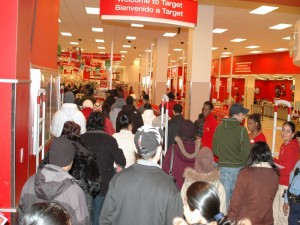 In a holiday event that is sure to bring out the worst in people, three women were arrested at a Tustin Kohls after a shouting match between them and two other women escalated into a physical assault that caused one woman to be hospitalized from her injuries.
The fight broke out in the baby section of the Kohls on Irvine Blvd. in Tustin. The victims were hit and scratched on their faces. Two of the three suspects fled the store before police arrived. One of the women was arrested for assault charges and was held in custody over the weekend pending a Monday arraignment with a bail amount of $25,000. A second woman involved in the incident was arrested, but later released pending further investigation. She may face charges later. The third suspect was a teenager who was released to her parents and may face juvenile charges.
The cause of the dispute is uncertain, but many fights typically break out at retail stores the night following the Thanksgiving holiday, where eager shoppers are given a strong economic incentive to compete against other shoppers for low prices. Squabbles frequently erupt into violence and chaos.
If you or a loved one are charged with assault or battery, call Irvine criminal lawyer Staycie R. Sena immediately at (949) 477-8088.